ETIAS Slovakia
Country Overview
Slovakia was one of the countries that joined the EU in 2004 during its enlargement. Slovakia also joined the Schengen Area in 2007.
The Slovakian government supports the creation of modern systems able to identify and screen individuals entering the Schengen Area, and more in general, the European Union.

Entry-Exit system and ETIAS (European Travel Information and Authorisation System) are the two legislative tools that will change the way to travel in Europe in the next years. Although their aim is similar, ETIAS will be focused mostly on short-term journeys.

Starting from 2021 all travelers above 18 years old will be able to apply online for the permission to travel to Slovakia. The online application cost is €7 and once the authorisation is approved it will last for five years. The authorisation will also allow travelers from visa-exempted countries to travel in other Countries part of the Schengen Area without requiring any other travel documents. Although the online authorisation is valid for five years, the maximum duration of stay in the EU is 90 days in a consecutive period of 180 days. If the traveler plans to have a longer stay in the Schengen area, a visa is required.
Tourism
Slovakia has more than 6000 caves. Its natural landscape is quite dramatic. There are also many castles in Slovakia. The world's tallest wooden altar is situated in the medieval town to Levoca. It was done without a single nail.The national capital Bratislava, lying along the Danube is surrounded by forests, forest and vineyards. Part of the National museum is found in the
Bratislava Castle
. Other interesting landmarks are the St. Elisabeth's Cathedral in the Medieval town Košic, Spiš Castle in Žehra or Church of St. James in Levoca. The Tatras mountains in the south is an excellent place for hiking and skiing.
Slovakia is landlocked central European country. Slovakia is heavily covered by forests, hills and mountains. The northern and central regions are rugged with mountains. The land becomes flatter towards the southern region with the Danube river flows through. The southeastern region is fertile lowlands. Danube is the main river in Slovakia.
Climate-wise, Slovakian climate is typical European continental climate. Therefore, winters are relatively cold while summers are warm and dry. Snowfall is common during winter. At times there are snowstorms. Summer is dry, warm and sunny. The most pleasant months fall from May to September. Spring is the rainy season of the year.
Dress to the weather
: During the summer months, wear light to medium clothes. Heavy winter clothes are advised during winter. Rain gear is recommended all year round.
About Slovakia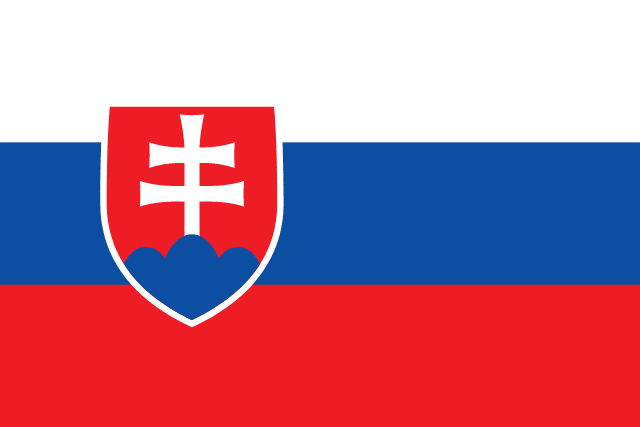 Area:
48,845 KM2
Capital:
Bratislava
Currency:
Euro (EUR)
Timezone:
UTC/GMT +1 hour
Languages:
Slovak 78.6%;
Hungarian 9.4%;
Roma 2.3%;
Ruthenian 1%;
Other or unspecified 8.8%
Population:
5,455,000
Calling Code:
+421
Power Sockets: